Product Information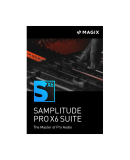 Magix
MAGIX Samplitude Pro X6 Suite - [Activation Card]
Develop new ideas from inception to the finished arrangement in Samplitude. Maintain a clear overview of
every recording, so you're always prepared for the best take. Give your projects the decisive advantage in
quality during mixing and mastering. Be the composer, producer and sound engineer. With Samplitude Pro X6
Suite.

SRP: $531.96
Your price: $443.30
You Save: $88.66 (17%)






no user ratings